I LOVE participating in cover reveals…especially for covers I've designed. So I'm EXTRA excited to share with you one of my most-favorite covers I've ever worked on: BECKON ME!  I've been working incredibly closely with Cindy since October to create something perfect for her amazing NA Paranormal Romance that releases on April 13.
This cover, you guys. We went through 36 drafts before we settled on something perfect…only to find out that another book had just come out with an incredibly similar cover. So we went back to the drawing board and decided to try something totally different.
And this cover–this cover, lucky number 37(!)–was the result. And I'm SO so happy with it, and proud of it. And more importantly, Cindy is happy with it, too. Because that's part of the reason why I do this–to give my clients covers they love. Covers that live up the incredible stories inside.
And now for the COVER!
Here's the whole jacket spread:
What do you guys think? I'm still so in love with it, and I can't wait for you guys to read such an amazing, beautiful story. Or meet Eli. swoon Here are the details:
Available April 13, 2015
Everything nineteen-year-old Karina Mitchell knows about death changes the instant that she and her best friend, Rainey, are shot. For one, souls don't die. They cross over. Only, Rainey's soul hasn't, and her ghost is hell bent on haunting Karina.
When Karina begins her sophomore year of college and moves into the apartment that she was supposed to share with Rainey, she learns a few shocking truths from her mysterious and gorgeous blue-eyed neighbor, Eli.
One: Karina has been chosen to become a Beckoner—an immortal conduit of the dead who helps safely guide souls to the other side.
Two: She's the reason that Rainey's soul can't cross over—Rainey followed her back from death and missed her window to be at peace.
Three: Eli is hot. As in swoon-worthy, to-die-for, will-make-you-forget-yourself hot. And it turns out, Eli is a Beckoner, too.
Despite her attraction to Eli, the decision to become a Beckoner isn't an easy one—it would mean giving up her own mortality … her own soul. But if she doesn't, her best friend will be left to suffer an eternity at the hands of the evil Ceptors, dark creatures that feed on the souls left behind. After all, it's her fault Rainey is haunting her.
Time is running out, and Karina needs to decide: Are love and loyalty worth sacrificing her soul?
BECKON ME is a dark but sweet NA paranormal romance for both NA and upper YA readers, ages 16 and up.
Available April 13, 2015
About the Author: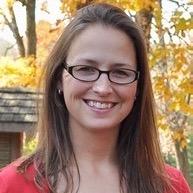 Cindy has dreamed of being an author since third grade when she won a writing contest for a story she wrote about her deceased great aunt. She hasn't been able to ignore that dream since and chooses to spend most of her free time listening to the voices in her head and writing their stories.
Outside of her writing and working for Spencer Hill Press, Cindy is happily married and has three young boys. She lives in PA, but was born and raised in NC. Even though she's lived in the northern half of the US for ten years, she still very much misses grits for breakfast and every now and then goes on a country music binge.
You can find her online in these places:
Website / Newsletter / Twitter / Facebook / Goodreads
P.S. Sign up for Cindy's newsletter and you'll receive the first four chapters of BECKON ME for free!